8
What Is Thrive Architect? Should You Have It Or Not
We all love nice things; the look, whether we like to admit it or not is a fundamental part of how we tend to judge things, at least that first impression we all know so well.
So, if looks are important, it is easy to understand why having a website that looks good, and pleasant to the eye plays a major part in the success or failure of a website and as a matter of fact of any online business, and this is exactly what Thrive Architect, actually Thrive membership can help you achieve.
Have you ever been on a site that looked dull and unattractive or where the pages were not fast enough and as quickly as you went on the site you went off it? I know I have done it plenty of times and the reality is, people, do! The minute a site doesn't look good or doesn't perform as expected. people switch to another one.
So, this is where Thrive Architect comes in the picture and can help you get that Blog/Website look, that your business deserves.
When I first started my online career, I struggled to create the perfect website, or at least what perfect seemed to be in my mind. I kept changing themes, adding plugins, take them off, changing colours within the themes, but I was never quite happy with the final result…Until Thrive membership arrived at my doorstep and changed everything.
Ok, I guess it's time to have a look at what Thrive has really to offer and see if it can be for you, as good and useful, as it has been for me.
Thrive Architect The Review
Name: Thrive Architect
What is it:  A WordPress Plugin or better a Front-end Visual Editor for WordPress. Thrive Architect is a software created by Thrive Themes and is a part of what is called the Thrive Membership
Price: 67.00$ for one single licence or 97.00$ for a 5 Licences Pack or 19.00$ a month with the Thrive membership (Paid Annually that gives you access to Thrive Architect and all the other plugins and tools of Thrive Themes)
Thrive Architect Single Licence:  you get Unlimited FREE updates & 1 full year of support and all the features of the software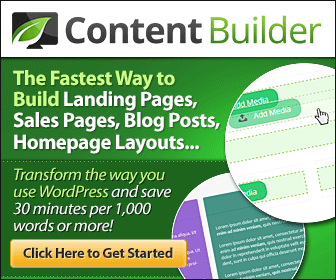 How to design a beautiful website
Do you remember when back in the day the idea of designing a beautiful website was something only HTML Code experts would consider doing? Putting together a front page, a landing page, a home page with ads and posts seemed an overwhelming task to any normal every day "Joe" but today things are so much easier.
I know I have built all my websites using WordPress and thanks God WordPress was invented otherwise I would have never been able to put together a proper site, especially since I know nothing about HTML, CSS, Themes editors and so on.
WordPress problems
The problems you encounter with WordPress, and I am sure many of you must have come across the same issues, is that using WordPress you are allowed to customize your site to some extent; you can pick the Theme, and some of the colours of the background, adding some images, deleting others, but if you want to get a little more sophisticated it does need a bit more knowledge.
Say you want to change your fonts, or even better the colour of your fonts; many of the Themes on WordPress will require some CSS Code knowledge if you want to do that.
When you want to alter some specific parts of your theme you are going into what is called the Content/Page builder part of your site and you need a software to enable you to do that unless you know the CSS codes I have mentioned above. There are many Content/Site Builder Software available online and Thrive Is just one of them but more than likely one of the most used and known amongst the Website building "World".
Is Thrive better than other software?
The reason I like Thrive more than other programs is because, working with WordPress, Thrive allows you to do whatever you need to do with your site without any problems or glitches or obstacles. Thrive Architect is the perfect choice for any WordPress theme and having used WordPress all my life, I just want things to be easy and run smooth and that's exactly what Thrive allows me to do.
Thrive Architect actually removes any barrier between the idea you have in your head on how your site should look like and the reality of having a website that represents just that.
What's So Good Of Thrive Architect
Many are the features of Thrive Architect that make the software as popular as it is; among the excellent qualities of the program we find:
The ability to build a website with Instant Drag and Drop Editing making the process super-fast
You can set up a truly professional-looking site without the help of any professional builder besides yourself and Thrive
Replace dozens of plugins that will slow down your site performance with Thrive conversion-focused elements
Build beautiful landing pages to increase your conversion rate
Even build professional Sales Funnels
Have your site ready for mobile users without any need of extra Plugins or to choose a Mobile-Friendly Theme
Create a professional-looking product launch sequence for your business
Choose amongst over 700 custom fonts
Apply over effects to any of the elements you want to
Style every little detail you want to without the need of knowing any Coding whatsoever
The list of things you can do with Thrive Architect is seriously long and I mean I could go on and on and on.
Basically, you can build whatever pages you like depending on your own marketing strategy.
Thrive Architect the Licence Vs. Thrive Themes (including Architect) the Membership
As I mentioned at the beginning of this Review, Thrive Architect comes with a cost of 67.00$ which is paid on a one-time fee and the software is yours forever, plus full support for a year which is also renewable.
We have had an overview of all the things that are available to you with the single licence which is definitely a great deal for what you get and never have to pay again.
If some of you have heard of Funnels before, you might have heard Click Funnel which is a great company that allows you to create excellent Funnel Pages to increase your traffic and guide more leads to your site.
If you have looked at Click Funnels you also will know that it comes with a price tag of 97.00$ a month which is not exactly cheap, not for everyone, not if you are at the beginning of your online business.
When you look at Thrive Architect and the ability the software gives you to create sale funnel pages without having to buy any extra software and you compare the price to Click Funnel's, well there is not much left to say.
( I have nothing against Click Funnels, it is an excellent program, just too expensive for me to run on  a monthly basis)
Now if we look at Thrive membership which is 19.00$ paid annually, what you will get with the membership is the full access to Thrive architect but also a lot more.
Thrive membership is like a complete Toolkit from A to Z for your WordPress site. You will not need anything else.
Thrive membership will give you Thrive Architect +
Thrive Optimize
Thrive Themes
Thrive Leads
Thrive Quiz Builder
Thrive Ultimatum
Thrive Ovation
Clever Widgets
Headline Optimizer
Thrive Apprentice
Thrive Comments
We already know what Thrive Architect is, so to give you a brief idea of the rest
Thrive Optimize will allow you to test your pages within your own dashboard so that you can find out which one works best and gets you the best results
With Thrive Themes you literally have hundreds of fully customizable beautifully designed themes to choose from
Thrive leads allows you to create sign up forms or any type of form to capture your leads and you can pinpoint exactly where you want these forms to appear or not. On a normal WordPress theme, the Sign-Up form is usually made to appear in a predetermined place and in all the pages, but with Thrive you select where and when the form should be
Thrive Quiz Builder helps you engage your viewers and make them participate to your site directly, thru Quizzes and Questions you can rise and they will want to answer
Thrive Ultimatum: when you create that sense of urgency and let the people know this is a chance they should not miss because it won't last forever, that's what Ultimatum allows you to do
Thrive Ovation is the best way to show your viewers what people think of you, your products your service, and that's exactly what Ovation provides in your site
Clever Widget is kind of self-explanatory. Have you ever had a widget on your WordPress that you wanted to be on a specific post but you couldn't? With Clever Widget, you will be able to select what Widget is better on each page of your website
The Headline Optimizer will help you select which one is the best headline for a particular post. No more guessing, you can test different headlines and with the Optimizer be able to know exactly which one is the most productive one.
Thrive Apprentice will turn you into a Teacher. If you have something you want to share with a course and either sell or give away for Free to your audience, with the Apprentice you will be able to do just that.
Thrive Comments will help you increase the comment action on each one of your posts which in turns will help you increase your popularity with the big engines like Google.
Is it too much? 
Undeniably Thrive is an excellent tool and if you have a little bit of experience or are ready to spend some time learning how to use the tools properly, by all means, you should consider Thrive as one to get.
Saying that though, remember if you are at the beginning and are a newbie of the internet Website Building world,  Thrive does require some learning and before you get it you might want to spend some time just practising on a normal WordPress Website which will still give you plenty to do.
Once you have built your site and want to make it better and feel like you can handle all these fantastic tools then you can truly take advantage of all the features that Thrive has to offer
Don't' forget looks are important but the Content even more
It happens to everyone, especially when you are just starting; you get so caught up with the look of your site that you focus less on what really matters which is what your site is all about, the content you have to offer to the reader.
When I first started my Internet business one of the first lessons I had with Wealthy Affiliate University was the importance of content
Content, content, content!
 Focus on that before anything else.
Look, I am a mom. When preparing a stew, you want it to taste good, but does it matter if it looks bad while you are making it?  Not really. So check the ingredients for taste, then focus on the presentation!
Once the taste is right, the spices are there, of course, dedicate your attention to the presentation because even the eye needs his part
One thing to be aware of with Thrive
There isn't really a negative thing I can find with the Plugin, the only detail worth for me to mention which is not a negative but more something that you need to be aware of is that once you start to use Thrive and you build a blog with Thrive if you deactivate the plugin the post will look kind of weird so as long as you don't deactivate it you will be fine.
Most of the times this is a common issue with plugins, you use them, you activate them, you write a post, you deactivate them, the post is not the same.
To be honest I can't see why you would want to deactivate Thrive once you start to use it.

The plugin, once you have mastered it, is really great and becomes almost indispensable if you want to build any site
What I like about Thrive
Everything really!
Ok seriously, there's a lot I like about it, just the fact that there are lots of Templates and when I say lots I mean over 304-page templates for you to choose from and growing in number every day
The Live preview which allows you to edit your site and be able to see it straight away. If you are familiar with WordPress you know you have to write something, save it and then go in preview mode to be able to check how it looks; Thrive does it all at once! You make a change, you see it on your screen which makes the editing process so much faster
Great Support which means every time you encounter a problem, an issue or you don't know how to do something you can contact support with a ticket and they are there ready to help you
The Tutorials. Within the member's dashboard, you'll find just for Thrive Architect 51 tutorials which, trust me, you are going to need to watch!!
Is Thrive for You?
If you are familiar with the expression the Sky is Your limit, then this is what you are going to get with Thrive, whether you simply get Thrive Architect or you decide to go ahead and have a Thrive membership there is no limit to what you will be able to design with this software/plugin.
Do you need to learn? Don't worry Thrive will even do that for you
When should you get it?
Just to end this review, let me finish by saying when I first bought Thrive I had not a clue what I was doing. I just liked it and loved all the features.
To begin with, all I did was build a few landing pages that I needed for some of my sites and I wanted some Funnel Pages as well; to do that I had no issues and the tutorial was well explained.
Would I have wanted to build a website straight away? I could not have done it.
I needed time, I needed to feel comfortable moving around the Dashboard rather than getting frustrated for not doing it right.
So if you are already a fairly advanced website user and want to improve the looks of your websites, Thrive it's definitely something I would consider; on the other hand, if you are new to website building and editing, take your time, and simply use WordPress, and once you have achieved a level of confidence and want to make your site better, then, only then, make that step and get yourself Thrive Architect or the membership.
The only instance I would say Thrive can be used by a beginner is if your intent is to build some landing or funnel pages as I did, in that case, it's ok, but for a full website be patient.
So, this is it for me now, I hope I was able to shed some light on the utility and features of Thrive, and if you have any questions don't hesitate to send me a message.
If you want to find out more details about the plugin I leave you a link here below where you can find a more detailed explanation of Thrive Theme.

Till the next time, wealth and success to all of you out there